And on a personal note…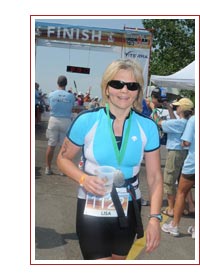 Lisa has participated in three half Ironman competitions and when she is not training, she is in the outdoors—hiking and snow shoeing. She started triathlon racing rather late in life – completing her first sprint when she turned 40 and after conquering a battle with weight. She brings the discipline, energy, commitment and pragmatic approach required for these kinds of changes to all areas of her life, especially her business. She also knows that individuals are always working on getting better, achieving goals and asking what's next? Just like most organizations.
Lisa believes in contributing positively to the community and within her family which is why she has volunteered for Kids of Steel races, the Boys and Girls Club, the Federation of Calgary Communities, The Canadian Public Relations Society and The Calgary Winter Festival. And why she dedicates "special time" as an aunt to many nieces and nephews who range in age from six-months to 17-years-of-age.